1. To sign up for our online portal, go to the following link; https://portal.revenue.scot
2. This link will take you to the Sign in page. Select the 'Register if you don't have an account' button. This can be found at the bottom of the sing in page.
Image
3. You will then be asked to select who you are signing up on behalf of. If you are not registered with Companies house and you are not an individual, select 'Non registered body'.
Image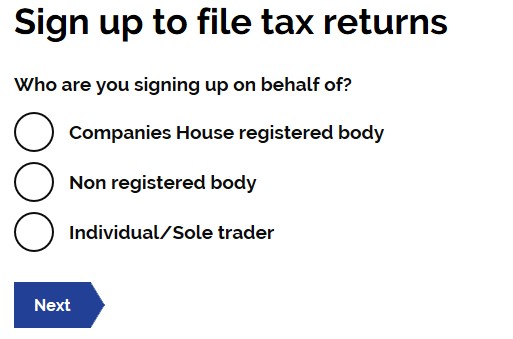 4. You will then be asked to complete the following details;
·         Organisation name
·         Organisation Address
·         Organisation contact details
1.      Email
2.      Phone Number
3.      Main Representatives Name
4.      Main Representatives NINO
5.      Main Representatives Address
5.  Once these details are complete, you will be asked to confirm which type of tax return you want to file. You will also be asked to confirm who the account is for.
Image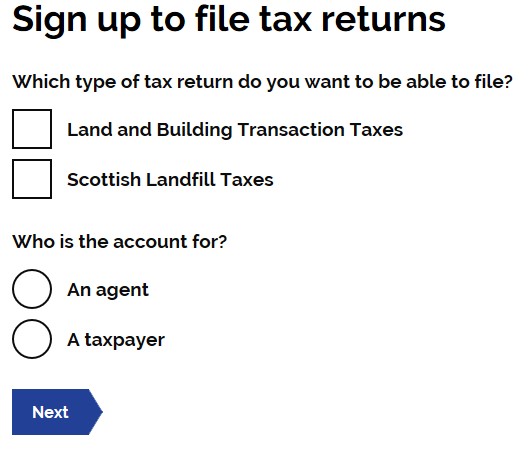 6. You will then be asked for the individuals account detail's; this is the person from the organisation that will be using the account. Complete the following information:
·         First name
·         Last Name
·         Email Address
·         Contact telephone number
7. Once the account details are complete. You will be asked to enter a user name and password.
Note: The username must be at least 5 characters and may contain A-Z, 1-9 or ._
The password must be a minimum of 9 characters long, with at least 1 uppercase letter, 1 lowercase letter, 1 number and 1 special character, like, +, $, !
A link to Revenue Scotland's terms and conditions is provided. Please make sure you have read and understand them. You will then be asked to confirm you have done this. 
You must also confirm that you have read and understood Revenue Scotland's email communication policy. A link to this is provided.
8. You will then see a confirmation screen the confirms sign-up has been completed.
Image

9. You will receive and email from Revenue Scotland providing a link to the system. Clicking on this link will allow you to activate your account. 
The link and token will only remain active for 24 hours from the time you receive the email. 
If these have expired, return to https://portal.revenue.scot and use the Forgotten password option to generate new ones. 
Once you have activated your account you will be able to sign in to your account. You will not be able to submit your tax return online until we have approved your registration for that tax, you will receive a further e-mail confirming this has been done.
Terms and conditions apply to your account. Full details can be found at https://www.revenue.scot/about-us/scottish-electronic-tax-system-sets-upgrade/terms-and-conditions
Please note: Each time you log into your account, you will be required to enter your username and password, followed by a one-time passcode that will be emailed to your email address.