1. To log in to our online portal, go to: https://login.revenue.scot/
2. Enter your Username and Password and select 'LOG IN'.
3. When you do this, an email will automatically be sent to your email address with your One Time Passcode (OTP). 
Go to your inbox and open the email from 'no-reply@revenue.scot' with the subject 'One Time Passcode from Revenue Scotland'. Don't forget to check your spam folder if the message doesn't appear in your inbox.
This OTP will be live for 10 minutes and will time out after that point.
4. Enter the passcode you receive in this email into the box shown below and select 'CONTINUE'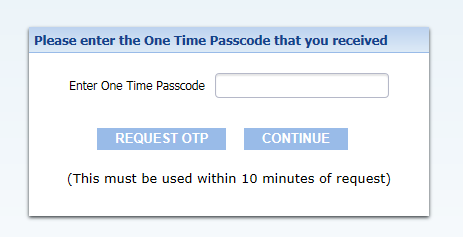 Only select 'REQUEST OTP' if more than 10 minutes has passed since you received your initial One Time Passcode email and the original OTP has now expired. Even within the 10 minutes, the original OTP will be invalidated if you request another OTP or make repeated attempts to log on as you will be sent additional passcodes each time.
5. The log-in process is now complete and you will be taken to your dashboard.
Please note: you will need to enter a One Time Passcode every time that you log in to the online portal. 
Purpose of the One Time Passcode (OTP)
The One Time Passcode (OTP) complies with best practice for securing taxpayer information. OTP provides a second authentication factor providing additional assurance that the user signing in is who they say they are. This protects both agents and their client's data.
The OTP will timeout after 10 minutes of inactivity - this is the recommended time limit when dealing with sensitive information and is intended to achieve a balance between security and ease of use.
Even within the 10 minute period, a One Time Passcode is invalidated if the user makes another attempt to log on and is emailed another one time code. This can cause some conflicts where a user makes repeated attempts to log on in quick succession. If this situation arises it can be addressed by waiting for 10 minutes (for all issued OTPs to time out) and then logging in again.
In line with security best practice, authentication does not highlight which of the three factors (username, password or OTP) is in error. If you still experience problems after following the advice above, we would suggest using the "Forgot Password" link on the login page to reset your password and then try logging in again.