Statement from the Chair
I am delighted to present Revenue Scotland's seventh Annual Report and Accounts for the Resource Accounts.
---
Since it was established in 2015, Revenue Scotland has collected around £4bn in revenues, all of which is raised in Scotland and stays in Scotland to help fund public services and contribute to the delivery of the National Outcomes. More details of the devolved taxes collected can be found on page 27, or through the Devolved Taxes Accounts for 2020-21. Like many other organisations, Revenue Scotland has had to rapidly adapt to a change in operating model from working almost exclusively full time in an office environment to fully working remotely as a result of the COVID-19 pandemic. After previous exercises in ensuring business continuity, the organisation pivoted to make a rapid transition and dealt with all the technical challenges that this significant change presented. However it was the staff who made the difference and it is a testament to the staff that the organisation's performance was maintained at a high level throughout this period. We are now actively piloting a new model of working, seeking to maximise the benefits of remote working as well as harnessing the power of technology, while putting the right measures in place to prioritise the health and wellbeing of all our staff and support those for whom remote working presents particular challenges.
In December 2020, Board members Jane Ryder OBE and Ian Tait retired from the Board after 6 years of great service since Revenue Scotland was established in 2015. Our chair, Dr Keith Nicholson also recently retired after leading the organisation through its formative first six years, helping to establish a strong reputation in the public sector and tax landscapes in Scotland and beyond. I am very grateful to Jane, Ian and Keith for all they have done and for leaving the organisation in such good shape as I was given the privilege of becoming Chair of the Board. We welcomed Simon Cunningham to the Board on 1 January 2021 having previously been a co-opted member of the Audit and Risk Committee (ARC). A Chartered Accountant, Simon is an experienced risk, audit and governance specialist and also a member of the Audit and Risk Committee at the Scottish Courts and Tribunals. His extensive experience and skills complement the range of abilities and talent of our Board.
Over the course of the year we have developed our third Corporate Plan for 2021-24 which sets out a range of ambitions most notably in the areas of 'data' and 'digital' where we are keen to work with other organisations to share leading practices for mutual benefit. Tremendous work has been done by many people to help Revenue Scotland perform strongly as Scotland's national tax authority. We stand ready to assume new responsibilities if required, using the skills and experience we have nurtured over the past six years of efficiently collecting and managing Scotland's devolved taxes. Our Corporate Plan sets out our ambitions to become a fully digital organisation with a new operating model that optimises efficiency and is better for the environment.
With huge thanks to the strong leadership team lead by Elaine Lorimer we are confident Revenue Scotland will continue to contribute strongly to the management of the tax landscape in Scotland. We work collaboratively with other parts of Scottish Government to this end. Our Board will continue to evolve and adapt while keeping good governance at the core of everything we strive to achieve. We very much look forward to continuing to make a strong contribution and reaching out proactively to our many stakeholders over the coming months and years.
Aidan O'Carroll, Chair of Revenue Scotland
Image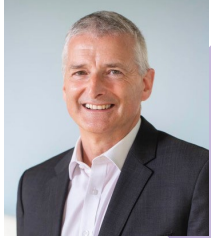 Statement from the Chief Executive and Accountable Officer
I am pleased to report that a total combined net tax revenue for the devolved taxes for 2020-21 was £624m, including £517m from Land and Buildings Transaction Tax (LBTT) and £107m from Scottish Landfill Tax (SLfT). While this is less than originally forecast, as can be seen from our published statistics, revenues from both taxes were impacted in the early quarters of 2020-21 by the COVID-19 pandemic. It is testament to our staff and the way we responded to the challenges of COVID-19 that we had no interruption to the ability of taxpayers to submit their tax returns and pay the tax due. This revenue, all of which was raised in Scotland, supports the delivery of public services across Scotland. More details on the devolved taxes can be found within the accompanying Annual Report and Accounts of the Devolved Taxes for 2020-21.
I believe that what makes Revenue Scotland stand out as an organisation, it is our ability to respond to challenges and changing circumstances and work closely and collaboratively to deliver effective solutions at pace. As set out in the Performance Report in this document, this past year has been no exception. To support taxpayers during the global pandemic, Revenue Scotland has delivered operational and legislative changes at pace, most notably the introduction of an increased LBTT nil rate band for residential property transactions (and its return to the previous level) and changes to the period for claiming a repayment of Additional Dwelling Supplement (ADS). We continued to deliver excellent performance against our key performance indicators while we radically altered the way in which we worked, as we shifted to remote working. As the period of the Corporate Plan 2018-21 draws to a close it is worth reflecting on the progress Revenue Scotland has made in delivering the ambitions we set out in 2018. I am clear it is our way of working that helped to shape the programme to successfully deliver a replacement tax system with a new supplier and while the devolution of Air Departure Tax was paused, we were praised for the approach we had taken to planning the implementation of the tax and also how we stood the programme down. Numerous legislative change projects including changes to tax rates and bands, new tax reliefs and changes to the ADS have all been successfully delivered on time and on each occasion we have taken the learning from previous projects and programmes into our planning. We have continued to deepen our understanding of the taxes and our powers and build the capability and capacity of the organisation. Our people are our strongest asset and the investment we have made in induction, training and supporting our staff has without doubt been a key factor in how we have delivered the performance that is reported here.
In early 2021, we consulted extensively with staff and key stakeholders on proposals for our Corporate Plan 2021-24 and developed a new strategic framework for the organisation. These documents set out our ambitions for the next three years and we are developing a business plan that will deliver our four strategic outcomes and the underlying strategic objectives which support them. And of course, these achievements have been delivered while working fully remotely online. As the COVID-19 pandemic started in early 2020, our immediate response at that time was driven by three principles:
the health and wellbeing of our staff
the performance of our statutory functions
and the continued delivery of excellent customer service
The great work of the Business Continuity Group ensured that all staff in the organisation undertook health and safety assessments and had the right equipment to work from home as comfortably as possible. We placed a major focus on wellbeing and offered multiple opportunities to all staff for accessing learning and development and support at group and individual level. This emphasis on wellbeing has helped greatly to ensure that the organisation has continued to perform at a high level throughout this period.
Elaine Lorimer, Chief Executive of Revenue Scotland and Accountable Officer
Image