Statement from the Chair
---
I am delighted to present this Annual Report, covering the first full financial year since my appointment as Chair of Revenue Scotland in August 2021.
In what has been a tumultuous year by any standards I have been particularly impressed by the ambition and dedication of colleagues from across the organisation, and it is a pleasure to publish a report that demonstrates so well what such a small but highly skilled, well connected, focused and agile group of people can achieve.
With a staff body of 76, £934 million of devolved tax revenue has been reported in 2021-22, all of which will fund vital public services for the people of Scotland. Revenue Scotland's Corporate Plan 2021-24 was laid before Parliament in November 2021 and focuses on four strategic outcomes.
We strive to excel in the delivery of our services, to successfully invest in our people, and to reach out effectively to our stakeholders. Last but not least, as we look ahead, we want to make what we do scalable and sustainable. As we increasingly come to terms with the COVID-19 pandemic, where our whole organisation pivoted in an exemplary way to ensure continuity and continued enhancement of service, other challenges are coming our way.
We are witnessing significant turmoil across the globe which has a direct impact here in Scotland and it has never been more important for Revenue Scotland to stay true to its values.
We continue to support our people with the excellent work of our Staffing and Equalities Committee as we implement our People Strategy to continue on our journey that makes Revenue Scotland a great place to work and develop.
As part of our commitment to creating a more sustainable and equal world, we have been developing a Green Strategy that will help to embed new ways in which we can contribute to Net Zero and are already making great headway in 2021-22.
In 2021-22 Revenue Scotland also continued its capital investment programme, which includes upgrades to our electronic tax collection platform and the procurement of replacement finance and contact management systems, to make our tax operations even more efficient and our service users' experience easier.
With advances in the areas of digital and data as well as staff development, we continue to increase the effectiveness and scalability of our services, thinking and acting as a 'Digital First' organisation which will help our organisation assume new responsibilities as required.
Toward the end of 2021-22 we began the recruitment process to appoint three new Board members in 2022, due to the imminent conclusion of appointments of Lynn Bradley and John Whiting. Lynn and John have made invaluable contributions to the organisation since it was established in 2015, and I want to offer my heartfelt thanks to them. By the time of publication of this Annual Report, our new Board members Professor Robert MacIntosh, Rt Hon Kenneth Macintosh and Idong Usoro have taken up their appointments and are providing an extremely diverse range of expertise in strategic development, public sector stakeholder engagement, and digital transformation and innovation.
As a Board we feel privileged to be working with a great team of professionals and to support them as we continue to build a resilient, forward facing and positive organisation that is delivering for Scotland. On behalf of the Board I want to thank all at Revenue Scotland for their tremendous contribution during another challenging year.
Aidan O'Carroll, Chair of Revenue Scotland
Image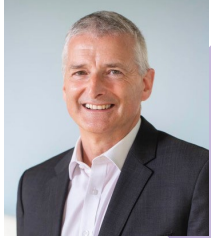 Statement from the Chief Executive and Accountable Officer
---
As the longer-term impacts of the COVID-19 pandemic on Scotland's public services started to show in 2021-22, I am proud to report record revenues in Revenue Scotland: £807m Land and Buildings Transaction Tax and £125m of Scottish Landfill Tax.
In 2022-23, we are set to reach a total of £5 billion of revenue collected from Scotland's devolved taxes since we were established in 2015. At the same time the pandemic still impacts on our way of working. While we transitioned to fully remote working the previous year, 2021-22 saw us partially reopen our offices from September 2021 and move into new ways of hybrid working.
We have taken a very evidence-based approach to this and are still testing the best use of our office space while considering business needs and performance, customer service and staff wellbeing. We have learnt a lot during the last two years about our own resilience and adaptability as an organisation, but also demonstrated significant creativity, innovation and ambition, and I am determined that we continue to utilise this wealth of new experiences to our advantage going forward.
I am immensely proud of all our staff at Revenue Scotland; of how they are embracing continuous improvement in the face of external challenges and constant change.
We are a small and agile organisation and continue to punch above our weight. Looking at our efficiency our total resource spending for 2021-22 was £6 million, and with a total tax revenue of £934 million, the cost of collection ratio, excluding programme costs, was less than 1%. Our workforce will increase slightly next year to bring in highly skilled staff to support complex compliance work and our data/analytical team, as we seek to deliver the ambitions set out in our Corporate Plan.
Looking ahead, we aim to use technology more to automate processes, improve tax compliance and further enhance the use of our data to better inform policy decisions. We have recruited a number of new people with a range of experiences and backgrounds, and I am confident that the talent and commitment of our people will deliver the vision and ambition we have as an organisation
Elaine Lorimer, Chief Executive of Revenue Scotland and Accountable Officer
Image